SplatterProteins, my Zazzle store, support science, get some art for yourself!
SplatterProteins, the etsy side of the store.
Patreon Shop
Get in touch for custom work.

These works by Ryan G. Coleman is licensed under a Creative Commons Attribution-NonCommercial-ShareAlike 3.0 Unported License unless otherwise noted.
The 4th Membrane Protein Technologies Meeting, Program Art.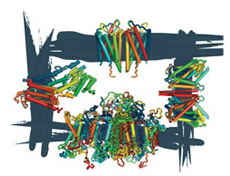 Ryan G. Coleman's animations, for details see recent papers.